Make Your Own Tablecloth and Napkins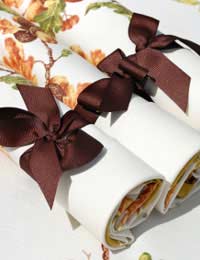 Making your own tablecloths and napkins is both cheap and easy. It also means that you can make tablecloths and napkins to suit different occasions such as Christmas and weddings.
Shop for fabrics in markets, charity shops and at jumble sales and you can often get a really good bargain.
You will need:
1.5 yards of fabric per four napkins
Tablecloth fabric – you will need to take the dimensions of your table and add 15-20 inches for each measurement, as well as adding on shrinkage (see below)
An iron and ironing board
A sewing machine
Matching or contrasting thread
Tailor's chalk/fabric pen
To make napkins
1.
Your napkins should be around 20 inches square. Make a template if you like or measure and draw the square with tailor's chalk.
2.
Cut the napkins out.
3.
Turn each edge under once (about a quarter of an inch and press), then turn under again to create a neat hem and press again. This pressing stage is important as it leads to a neat finish.
4.
Pin the hem under.
5.
Stitch neatly along each edge, carefully keeping the needle in the fabric and turning the fabric at the corners.
6.
Remove the pins and snip off any loose threads.
To make a tablecloth
This is to make a rectangular tablecloth. Circular cloths are more difficult and not suitable for beginners.
Measure your table and then add 15-20 inches to each measurement. This is how much fabric you will need for your tablecloth.
Measure out your square or rectangle, using a ruler and tailor's chalk or a fabric pen.
Cut your tablecloth out. Turn the edges under again as you did with the napkins and press, then pin them into shape. This time use a slightly larger hem of around half an inch.
Sew round as you did with the napkins, using the same techniques on the corners.
Remove the pins and snip off any loose threads.
Tips
Choose fabrics that are easy to work with like cotton
Choose cheap fabrics until you get the hang of making your own tablecloths and napkins
It is best if you wash and iron your fabric before you start sewing
Allow a little extra in the yardage if the fabric is shrinkable. (Cotton will shrink up to 20%)
You don't have to have exactly matching tablecloths and napkins. Experiment with contrasting fabrics. For a shabby chic look, go for vintagey florals, teamed with polka dots for example
Try embellishing your tablecloth and napkins with embroidery or screenprinting
Handmade tablecloths and napkins make great gifts at Christmas or for weddings
Experiment with threads. Sometimes a contrasting thread looks more striking than a matching one
Once you get the hang of this technique, you could run up a lot of tablecloths and napkins in a day. If you needed a lot of tablecloths and napkins for a wedding or event, for example, this could save you a lot of money
You might also like...