Make Your Own Birthday Cards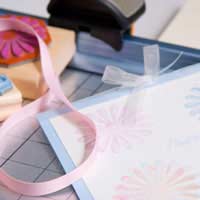 Handmade birthday cards are unique and personal; they're special. They say, 'I care enough about you to make the effort.' And, in fact, the effort doesn't even have to be that huge but it can still result in a card that will be kept, with sweet memories, for years.
The amount of time and effort – and money - you put in, is up to you: the card can be as simple or as spectacular as your creativity allows. But bear in mind the old design adage: less is often more.
Getting the basics
If you're just dipping your toe in the 'make your own greetings cards' pond, you won't want to spend too much on initial outlay. It's very tempting, when browsing, to go mad and buy loads of papers, gems, accessories and equipment but it's wiser to keep it simple until you've had a go and decided whether or not it's something you'll carry on with.
One item that it is sensible to spend money on is a pack of ready-folded cards and matching envelopes. If you've ever tried folding card you'll know it's almost impossible to do it invisibly i.e. creases will be visible along the fold line. When you've decided you love the freedom and opportunity for creativity that card making gives you then you can buy special scoring tools and boards that enable you to make perfectly folded cards and even envelopes and boxes.
The internet provides the largest choice of craft supplies. A simple search will bring up hundreds of suppliers but to get a feel of what's available try and find a local store to visit. Most large stationers, such as W H Smith, and some DIY superstores, stock craft materials and nowadays there are many specialist shops dedicated to home crafters as well.
The simplest cards
You don't need to be a great artist or even have fantastic design skills to create lovely cards with a personal touch. Photos especially of babies, children or special occasions make great cards. Many home colour printers produce good quality photos or there are online services that print your digital images for as little as 5p each. Some of the online photographic companies offer a card making service so all you have to do is send them your photo, choose the layout and they'll do the rest. Ideal if you have lots of wedding thank yous to send out, for example.
Alternatively, buy cards with an inset to allow you to include a photo or stick your photo on and create your own border.
If you have even a little drawing ability you might consider making your own cartoon cards. A quick glance in a card shop will reveal several ranges that consist of simply-drawn cartoons. The Purple Ronnie range, for example, makes great use of stick people and funny rhymes. How much more delight would a personalised and relevant cartoon and rhyme arouse?
Pressed flowers can also be used to make effective birthday cards. And children's drawings or babies' hand or foot prints always go down well with grannies and granddads.
The greeting
Most of us lack the sort of stylish hand-writing that is needed for the front of a greeting card but there are plenty of alternatives including:
Letter stickers – peel off the sheet and create your own message
Ready-made stamps with a birthday greeting to be used with an ink pad
Alphabet stamps – available in a wide range of fonts from simple to calligraphic, kids to woodcuts
The final touch
Choose from some of the wonderful themed papers to create a scrapbook look for your card. Layer and embellish them with appropriate symbols. Or stencil, emboss, or punch hearts. Then add the finishing touch with some extras: beads, butterflies, roses, gems, hearts. Or experiment with decoupage.
Inspiration
If you've got the greeting card bug and want to take it up more seriously, visit the local library. In the Arts & Crafts section you're sure to find several books on card-making that will inspire you and give you an 'idea springboard' from which to come up with your own designs.
Most specialist gift shops stock at least one range of handmade cards. Spend some time browsing through them. See which ones you think work and which don't and why.
The only thing that will hold back your card making is your imagination. Let it free and you'll soon be creating wondrous greeting cards that your friends and family will love to receive. And who knows? Maybe you'll go on to become the next big thing in the greeting card world!
You might also like...