How to Make Your Own Natural Fabric Dyes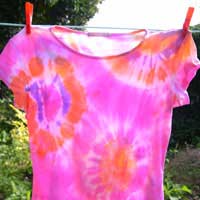 Whether you're looking to create your own unique craft piece, or rejuvenate spare wool, cotton or linen, there are an array of natural fabric dyes that you can pluck from your own garden to create a stunning assortment of colours.
A garden or hedgerow in Autumn plays host to a riot of colour, and so it's not surprising to learn that natural dyes can be procured at this time of year too. Berries, plant leaves, flowers, roots and bark can produce some of the richest, most sumptuous of colours that synthetic dyes simply cannot recreate. Whether you're looking for greens, blues, purples, reds or a range of yellow hues, nature is only too willing to oblige.
Before You Start Picking
Obviously, if you intend to pick and forage plants or bark from your back garden, you needn't seek anyone's permission before you're set loose. However, if you wish to go further afield and scour a field or hedgerow, it's best to seek the permission of the landowner first. Check that the plant you're picking isn't a protected species, and never pick more than ten percent of the plant, taking care to leave the roots intact.
Before you begin foraging it's also worth getting up to scratch on which plants are poisonous. It's a good idea to equip yourself with a pair of sturdy gloves for picking. And because some of the dye fixes (mordants), and natural fabric dyes themselves, can be poisonous, you'll need to wear protective facemasks and body clothing, as well as using separate utensils and pots to those that you cook with.
Choosing the Right Material to Dye
Not every fabric is suitable for natural dyes – quite simply, you can only use natural dyes on natural fabrics. Wool, cotton, linen and silk are all appropriate, providing they're prepared properly. To do this, make sure that they've been cleaned and scoured properly to remove dirt and grease that can cause patchy absorption.
Choosing a Dye Fix
Natural fabric dyes won't be as vivid and 'in-your-face' as synthetically-produced fabric dyes. But they will produce subtler, richer colours that will be colourfast, providing they're properly 'fixed' to the fabric. Mordants are compounds used to fix natural dyes, and usually contain metals such as iron or alum. To see which fix works best for you, it might be a case of experimentation. However, you must be aware that mordants can be very toxic is misused, so make sure that you do some very thorough research before even contemplating using them.
Try and keep track of measurements by recording them in a dedicated notebook. Keeping swatches and 'recipes' will help you to produce an array of results, colours and colour depths. This is especially important when working with a variety of fabrics, as each fabric will absorb the dyes differently.
Sourcing Blue Dyes
You'll find that berries are a great source of natural blue dyes. Elderberries are usually quite abundant, and can be used to produce a prominent violet hue. However, you'll find that by adding salt to your 'recipe', the elderberry's hue will become more blue.
Another fruit that produces a blue hue are sloes, which can be sometimes be found growing prolifically in woodland and field hedgerows.
Sourcing Red Dyes
Despite their name, blackberries are a good source of pink and red hues for natural dyes. Red onion skins will also produce a pinkish-red, and surprisingly, yellow onion skins will produce a fairly vivid red colour.
The fresh inner bark of a birch tree is also a source for natural red dye, and can be procured all year round. However, when collecting bark, try to harvest from felled trees or fresh prunings rather than healthy trees.
Other Natural Dye Colours
For yellow natural dye hues, try bog myrtle (sweet gale) and the yellow flowering tips of the broom plant. The elderberry tree's bark will also produce a warm grey tone, whilst earth rich in iron will produce a (not surprisingly) earthy red tone. Leaving a metal object to rust in water whilst in contact with cotton may produce some interesting results too!
How to Create Your Dye
Once you've (carefully and safely) mastered the art of making your mordant, you can move on to making your natural dyes. Essentially, this is an easy process, but you will need to render each dye on it's own.
Firstly, you'll need to take the raw material – such as the berries or plant leaves – and place them in a fairly small saucepan. Remember that you should have your own saucepan dedicated to dyeing, as the plant chemicals and mordants will contaminate any food cooked in them.
Crush the plant materials slightly (you can use your knuckles if you've no utensils to help with this task), and then cover with enough water to rise around a quarter of an inch above the materials.
Then all you need to do is to bring the water to a simmer; the plant materials will slowly change the colour of the water and reduce somewhat. You may need to add water whilst you wait for your desired colour intensity.
Remember that making your own natural dyes might not be an exact science, as each collection of natural materials may differ slightly. You might find that each batch is a mini experimentation in itself; however, you can help yourself by recording your findings for a somewhat loose future reference. This is especially important with so many natural sources of colour to choose from!
And above all, remember to stay safe – never mix your natural dye saucepans with those that you use for cooking!
You might also like...