Make Your Own Fabric Flowers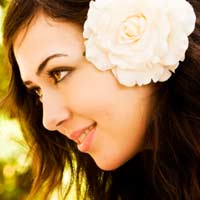 Fabric flowers can be used for lots of things – for hair accessories or brooches, for example, or to decorate your home. There are a number of different ways to make fabric flowers to get different effects.
Method One
This method gives the most 'realistic' effect of flowers due to the singed edge of the petals. Children should not do this without the supervision of an adult and adults should be careful to avoid fires.
You'll need:
A silky fabric with some stiffness – something synthetic is best
Scissors
Card
Needle and thread
Glue
Buttons or beads
A candle, tea light or lighter
Cut different-sized circles out of card – the biggest should be the size that you want your flower to be. If you're just making one flower, you may be happy to just draw onto and cut out the fabric, but if you plan on making a few flowers, making card templates will save time.
Cut one set of the circles out of your fabric – don't worry, you don't need perfect circles. To give a petal effect, snip shallowly (no more than a third) around the edges of the petals. Make as many petals as you like, depending on the effect you want.
You now need to singe the edges of the fabric. Be very careful not to get burned. Do not put the fabric too close to the flame. Hold the petals about 1.5 inches from the flame and keep the circle rotating so that the petals don't get too hot and catch fire. The edges should be melting and curling like petals.
When you have your petals how you want them, stack your circles up as you want them and pin through the centre. Sew neatly. You can tidy the centre of the flower by covering the join with a glued or sewed on button or bead, or a collection of sequins.
Method Two
This method makes a more stylised flower.
You'll need:
Fabric scraps
Iron-on interfacing
Felt
Glue
Needle and thread
Buttons or beads
First, you need to cut out basic flower shapes of different sizes, as you did with the circles in method one. If you don't want to draw your own, look for templates online.
Iron interfacing on to the wrong side of the flowers and then cut them out. You can now stack up the flowers as you want them and pin them together. You may want to sew or glue a felt circle onto the back of the largest petal to make it easier to attach the flower to a brooch or clip. Sew the petals together and decorate the centre of a flower with a co-ordinating button.
You can see that these flowers are very easy to modify. Experiment with the shapes, sizes and fabrics that you use. You can use your home-made flowers to attach to clips or hairbands. Alternatively sew on a brooch back or safety pin. You could even experiment with adding a 'stem' from flower wire covered in felt.
You might also like...
hi, love your ideas and am so in love with interior desiging and would like to learn how to make nice circullar pillow cushion covers. thanks
flexie
- 23-Jun-12 @ 9:16 PM