Make Your Own Wedding Favours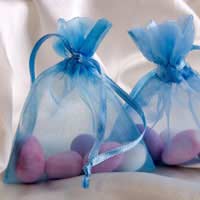 The little details are often important at a wedding but accessories such as favours can get expensive, especially when you have a lot of guests. You could try making your own – it'll mean something to your friends and family and it will make your wedding even more personal.
Making your own favours can involve getting crafty from scratch or putting together small items to make gifts.
Sweets and Treats
Sweets make a lovely wedding favour and can be bought or made easily. You don't have to buy expensive sweets as you'll be packaging them up nicely later.
Why not try making your own fudge or making your own sweets?
If you want to be traditional, you could make your own sugared almonds. Here's how:
You'll need:
500g almonds
One large egg (white only)
A cup of sugar
A few drops vanilla extract
A few drops almond extract
Spread your almonds out on greaseproof paper on a baking tray. Heat the oven to about 200ºC and place the almonds in for about 25 minutes to toast. Give them a shake every five minutes or so for even cooking.
Beat the egg white until stiff and gradually add the sugar and a few drops of the vanilla and almond extract. Fold the toasted almonds into your egg and sugar mixture and leave to set. If you want different colours, use food dye at the folding stage.
More Wedding Favour Ideas
Decorated candles – Big bags of tealights can be bought cheaply from homeware shops. You could decorate one or two per guest with a thin ribbon and beads. Use hot glue to attach.
Alternatively, you could make your own candles
Make decorative soaps to match the theme of your wedding
Collect seeds and herbs and bag up as gifts
Print out love poems/song lyrics on nice paper and use them as favours. Print four on one piece of A4 and cut into quarters using pinking scissors
Wedding Favour Boxes and Bags
You can buy wedding favour boxes to make up at home quite cheaply, but numerous templates are available to print off online. All you need to do then is cut the template out in card, score, fold and glue. You can then decorate your boxes with ribbons that co-ordinate with your theme.
Tulle or organza also makes great bags for sweets and other small favours. Cut the fabric into a circle shape, depending on the size of your favours. You could draw around a saucer, side plate or dinner plate. Use pinking shears for a pretty finish. Place sweets, tealights or other favours in the centre of the fabric and bunch up, typing with a ribbon.
Doilies and coloured paper make cheap and attractive cones to put sweets in as favours. Roll the doily or paper circle into a cone shape and glue neatly. You can then fill with sweets – you could stand a few cones in a wine or cocktail glass as a table decoration.
Another seasonal way to package your favours would be to put them in home-made crackers.
You might also like...
this is a really good idea thanks
Lox
- 27-May-11 @ 9:18 PM