Make Your Own Pot Pourri and Air Freshener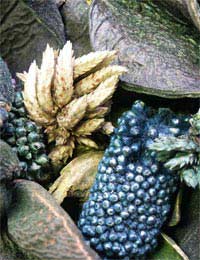 Pot pourri and air fresheners are great ways to not only neutralise or mask unpleasant smells, but also fantastic for helping to create a certain atmosphere and ambience. You can make your own potpourri and air fresheners from naturally derived ingredients, the benefit being that you're not 'polluting' your home to make it smell good!
Many commercial brands of synthetic potpourri and air freshener contain something called volatile organic compounds, which can pose a health hazard to pregnant mothers and babies in particular. A build up of volatile organic compounds in the home from other sources such as cleaners and polish do not necessarily amount to a clean and healthy home. A much more cost effective, environmentally friendly and healthy alternative is to opt for natural and naturally derived pot pourris and air fresheners.
What Is Pot pourri Exactly?
Pot pourri basically refers to a mixture of ingredients, most commonly dried flowers and spices. In mass produced pot pourri, the dried flowers are often dyed and artificially scented with synthetic fragrances.
The flowers can be whole, or the pot pourri can consist of just flower petals. Because pot pourri can consist of so many different ingredients, there are a plethora of pot pourri mixes out there. You can just as easily create your own mixes from fresh ingredients such as flower petals, or create your own recipes and bespoke scents by adding essential oils to dried flowers.
You can also experiment with seasonal scents to create the perfect festive atmosphere. For instance, oven-dried oranges, cinnamon and cloves are all perfect for creating that holiday ambience.
The Simplest Solution
One of the most simple and effective air freshening solutions is to simply cut a lemon in half and squeeze some of the juice out. Lemon juice is not only a great grease-busting cleaner, but it also leaves a pleasant odour behind. Slightly smelly kitchens or bathrooms can be cleaned and left smelling fresh by using a basic water and lemon solution. Don't forget that bicarbonate of soda is also a brilliant odour-busting ingredient that no home should be without.
Another simple option is to look to your garden for inspiration. Herbs in particular are extremely useful as they can be picked fresh and left to dry, whilst still leaving a subtle but pleasing scent lingering wherever they are hung. Lemon balm, lavender, mint, peppermint and chamomile are just a few examples of herbal potpourri mixes, or hung as bunches to freshen the air. Some herbs such as peppermint and lemon balm also have the added bonus of being insect repellents, so can be hung out during the summer months to help keep your home free of creepy crawlies.
You could even crush the dried herbs gently to put them in material sachets for use in drawers or on pillows, or even as car air fresheners! These air freshening sachets or pillows also make fantastic little gifts for friends and family alike.
Make Your Own Air Freshener
You can make your own air freshener using more naturally derived ingredients, particularly essential oils. By very carefully placing a few drops of essential oil into a light bulb ring, the light bulb will heat slowly to release a calm scent into the room.
Alternatively you could always find an extract, or essential oil and mix it with around one pint of distilled water to create your very own homemade air freshener. Simply pour the contents into a plant mister and mist around the house!
Vanilla extract, almond extract, allspice and ginger are all good examples of naturally derived ingredients that can be used individually, or in conjunction with each other to make homemade air fresheners. Of course there are so many different scents you can create, so it might be a case of experimenting to find what works for you. Generally, you will want to start with around 1 ½ cups (around a pint) of distilled water, and generally one to one and a half teaspoons of each extract or essential oil scent.
You might also like...