Make Your Own Cosmetics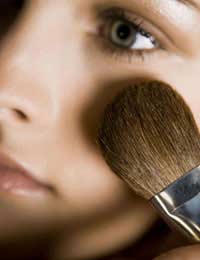 Cosmetics are very big business. Most women possess at least a few basic items of makeup, most commonly foundation, blusher or bronzer, eye shadow, mascara and eye liner.
But did you know that you can make all of these products for a fraction of the cost? Making your own cosmetics will also open your eyes to just how many potentially hazardous yet unnecessary ingredients are used to bulk out and preserve commercial branded products.
Why Make Your Own Cosmetics?
The first reason for making your own cosmetics is the health aspect. We care about the food we eat, but what we put on our bodies can have important health consequences.
You may not be aware that many cosmetic and skincare products such as body and face moisturisers and foundations contain preservatives known as parabens. Put simply, the problem with parabens is their cumulative effect when they are absorbed into the body. Typically your skin will absorb around 60% of what is applied topically to it.
So the parabens can enter your blood stream and build up in small deposits in your body. Parabens have been linked with problems such as cancer, and have actually been found present in cancerous tumours. When you take into account that many people use these products on a daily basis, you can realise why it's starting to become an issue.
Similarly, creamy cosmetics and perhaps some lipsticks often contain phthalates for their plasticising qualities. In low doses, phthalates have been linked, amongst other things, with abnormal male reproductive development in foetuses. This gives you an insight to just how important it is that we cut out all the unnecessary ingredients in products that we use daily.
Another great reason to switch to making your own cosmetics is the fact that many beauty companies use cheap fillers such as talc and bismuth oxychloride. These fillers can be prove to be skin irritants for many people, despite the fact that they can be easily substituted for other ingredients.
You can make your own milder, effective cosmetics for a fraction of the price - so you probably need not be convinced that making your own cosmetics is the way to go!
How to Get Started
You'll need to find yourself a specialist cosmetic grade mineral supplier - there are a multitude of such stores found online. Most of the suppliers are based in the USA, where mineral make-up is incredibly popular. However, the trend is becoming more widespread here in the UK, so you may be able to cut out the shipping costs and source your products from within the EU.
Mineral eye shadows are most probably the easiest cosmetic to make. Mineral eye shadows can be made from ground minerals such as iron oxide, silica, and coated coloured mica. The range of colours available is astounding - you will be spoiled for choice!
You can purchase multi-use mineral powders and use them 'neat' if they are graded safe for use on your eyes. Most mineral makeup is fine for eyes, although any product that contains Green Chromium Oxide cannot be used on lips.
Mineral multi-use colours are very highly pigmented, meaning that a little product goes a long way. They are so versatile that they certain coloured micas or oxides can be used as blushers and bronzer. You can also mix and match to create your own unique colours.
Another bonus is that loose multi use minerals can be added to clear nail lacquer to make your own nail polish. Finally, other great point about mineral makeup is that it is inorganic, meaning that it does not need paraben preservatives - the powder is dry and effectively can keep for years.
If you want to make your multi-use minerals go further, you can add ingredients such as boron nitride (at a rate of around 3%) to add slip, adhesion and other bases such as titanium dioxide, serecite mica or zinc oxide to add 'bulk'.
Making Foundation
You can make your own mineral foundation easily too. Mineral foundation can beat powdered foundation hands down, particularly if you suffer from skin conditions such as acne and rosacea, or have particularly oily skin. Adding small amounts of naturally derived ingredients such as kaolin clay will help to absorb oil. The minerals also lay on your skin in such a way that they allow it to breath, so by covering up your acne or spots you will not exacerbate the problem.
Depending on the finish and colour of foundation you want to use, you will only need a few ingredients to make mineral foundation. Iron oxides provide a red pigment, and yellow coloured micas will help to create the different shades of colour suited to your skin.
You can opt to use titanium oxide (which possesses natural SPF qualities), zinc oxide (which calms irritated skin) or serecite (for it's silky sheen) as the base. The real skill comes in experimenting and discovering the ratio of each ingredient to create the perfect colour match and desired finish for your skin.
Mineral makeup will last throughout the day, and need only be used sparingly, meaning that it will last for months, or even years longer than your branded counterpart. Why not give it a go, the chances are you'll never look back!
You might also like...
I'm interested in starting my own makeup like but unsure how to go about it please can you help
M_h200
- 25-Jul-20 @ 4:59 PM
I'm interested in having my own makeup line and I'm not sure how to start and go about it. Can you please assist me? Thank you
Glo glo
- 15-Jun-20 @ 9:59 AM
Hi I just wanted to get some infomation on how to start my own beauty brand and how much would it cost to make myown beauty line thank you
Tuncy
- 18-Jul-19 @ 9:16 PM
Hi I just wanted to get some infomation on how to start my own beauty brand and how much would it cost to make your own beauty range thank you
Liyahh
- 15-Mar-18 @ 10:55 AM
I am thinking of starting my own cosmetic line therefore the info above was quite interesting
MiDa
- 8-Nov-11 @ 8:49 AM