How to Make a Natural Insomnia Remedy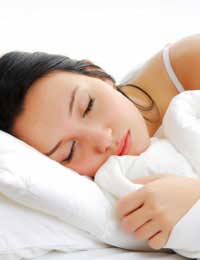 Sleep is so important to our physical and mental health, and without it many day-to-day functions that require concentration can be easily disrupted. It's thought that almost a third of us will suffer with sleep troubles or insomnia at some point during our lives. Whether it's due to the strains of a fast-paced modern life, or personal and relationship stresses, there's no doubt that many of us could do with an insomnia remedy to help us wake feeling refreshed and revitalised, ready for the day ahead.
Prolonged sleep problems can be treated with prescriptive sleeping medications, some of which can have less than desirable side effects. And although there are also milder over-the-counter remedies available, why not look to nature for some soothing solutions without the unpleasant after effects.
Natural Plants, Natural Properties
There are many herbs and plants that harbour natural properties that help to promote sleep and counteract insomnia. One of the most popular natural insomnia remedies is thought to be the herb lavender. The essential oil of English lavender (Lavandula angustifolia), along with many other properties, is thought to be a powerful relaxation and thus, sleep promoter. The dried flowers are also often used as a more subtle stress-busting remedy.
Chamomile is also well-known for its soothing and calming properties, and its medicinal properties have been widely documented. It is thought that chamomile can be used to treat over 100 different mild ailment. Easily grown in domestic gardens, the chamomile flower is also often used dried and infused into tea, with the drying process concentrating the potency of this medicinal plant.
But less well-known for sleep-promoting properties, are hops. On a commercial basis, the use of hops is most prevalent in the brewing process; however, this flower of the humulus plant also has properties that make it a viable remedy for insomnia, anxiety and restlessness. The relaxing effect of hops is due to the presence of the chemical component dimethylvinyl carbinol, which produces a sedative effect when ingested or inhaled. When freshly dried, the hops retain these chemicals for a while, but eventually over time they will deplete. For this reason, when using hops as a relaxing remedy for insomnia, it's always best to grow your own and dry from fresh.
The good news is that all three of these medicinal plants are readily available, and can be easily grown in a back garden. But bear in mind that when freshly dried, hops will have soothing oils, but eventually over time they will deplete. For this reason, when using hops as a remedy for insomnia, it's always best to grow your own and dry from fresh.
Hop Pillow Natural Insomnia Remedy
Hop pillows have been used throughout history as a natural sleep promoter. Although they can be used on their own, they are often combined with other herbs that have soothing properties, such as lavender and valerian. You can easily make your own insomnia remedy hop pillow by following the steps below.
If you intend on drying your own hops and lavender, you will need to tie them in small bunches upside down in a well-ventilated room, away from direct sunlight for around 14 days.
A quicker option is to oven-dry the hops and lavender by placing in an oven on the lowest setting, or 100ºC/210F, for around half an hour. Remove, allow to cool and remove the flowers from the crisp, hard stalks.
What You'll Need:
Approx. 4 handfuls/cups of dried lavender flowers
Approx. 4 handfuls/cups of dried hops flowers
Needle and thread or Sewing machine
Cotton material - enough to make a pillow case approx. 9 inches x 12 inches (or a small pillowcase)
Cotton thread
Place the dried lavender and hops into the pillow case, mixing and distributing equally. Sew and seal closed the pillow case to prevent any leaking. Place under your normal bed pillow, or close to your head at night to help promote relaxation and sleep. You should bear in mind that this pillow is not suitable for heating in the oven or microwave.
You may also need to replenish the dried flowers in the pillow every few weeks for maximum effectiveness - but combined with some relaxation prior to bedtime, a cup of chamomile tea, and a dark, quiet room, this pillow should help you drift off into a calm, restorative deep sleep!
You might also like...