Tackle Tired Eyes: Make Your Own Cooling Eye Wash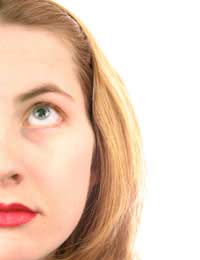 With many jobs involving working long days in front of a computer screen, eyes become tired, dry and irritated. Quite simply, our eyes were not designed to cope with the continual glare of a computer monitor. It has also been found that during prolonged periods of using a monitor, we actually have a tendency to blink less. The result is dry eyes that can easily become sore and 'hot'.
Whilst frequent breaks from looking at a monitor are recommended, there is another natural solution that will help to relieve tired eye symptoms. Whether you suffer with tired, irritated eyes first thing in the morning, or crave a refreshing, cooling eye wash in the evenings, this recipe should help.
Tired Eyes - The Key Ingredient
Air conditioning systems that continually pump out air, dry out skin and eyes. A cooling eye wash is a great way to rinse your eyes of any debris and dust that might accumulate there during the day.
This cooling eye wash uses the key ingredient 'eyebright'. Eyebright (Euphrasia officinalis) is actually a flowering herbaceous plant with a long history of use documented as far back as the 1300s, and before then around the time of the classical herbalists. The common name 'eyebright' comes from the plant's widespread use in treating eye complaints and infections.
Traditionally, eyebright was applied as a poultice. The dried eyebright was mixed with water to make an infusion or soft moist mass of leaves, before being wrapped or soaked in a cloth and laid over the affected eye. As you can imagine this could be quite a messy affair. Eyebright can also be used as an eye wash however, offering a faster and effective solution.
Dried eyebright is available to buy from health food shops and on the internet. If purchasing over the Internet, you should make sure that you are buying from official, reputed sources.
To Make the Eye Wash
You'll need:
1 tablespoon dried eyebright
1 pint cold water
Small saucepan
Mixing bowl
Fine sieve
Muslin
Sterilised bottle
1. Pour the dried eyebright into your saucepan then add the water. Carefully bring the water to the boil, then simmer for around 10-15 minutes, gently stirring the mixture from time to time.
2. Next, pour the mixture through a fine sieve, capturing the bulk of the dried eyebright. The infusion for the eyewash needs to be completely clear however, so you will then need to strain the infusion again through the muslin. To do this, take your large mixing bowl and cover the top with the muslin. Secure around the edge with string or elastic, making sure that the muslin has a little give so that the eyebright infusion channels into the middle of the cloth.
3. If the infusion is not completely clear after straining, you should strain again. Once you're satisfied that the infusion is clear, leave to cool before transferring into your sterilised bottles and seal them closed.
This cooling eye wash should keep in the refrigerator for around 1 week. The eye wash can be used directly undiluted and can be applied around two to four times daily.
You might also like...