Homemade Sunburn Soother Recipe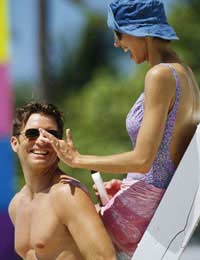 Life would be impossible without the sun, but our skin needs protection from the sun's ultraviolet rays. We all have some degree of natural protection, but it varies from person to person. Sunscreen can protect our skin from the harmful rays of the sun; not wearing it could result in painful damage. Below is some information about the sun's effects on our skin together with a natural, homemade recipe for soothing a sunburn.
The Sun: Our Friend and Our Enemy
The sun provides the earth with life-giving light, but it also bathes us in ultraviolet rays. These UV rays penetrate the layers of our skin and cause premature ageing as well as increasing our risk of skin cancer. UV rays are invisible and are present even on a cloudy day.
We all have some degree of natural protection from the sun. Certain cells in our skin produce melanin in response to the sun's rays, darkening the cells of our epidermis to protect against further damage. This process is what causes tanning. However, as you probably know, some people tan easily while other burn. Our skin's ability to produce melanin varies from person to person.
Sunscreen uses both natural and chemical ingredients to protect our skin against ultraviolet rays. The ingredients in sunscreen include chemical filters that are absorbed into the skin to protect cells and physical filters that stay on the surface to reflect rays away from the skin.
You should know that no sunscreen offers 100% protection. Choose a sun cream with a high SPF factor, apply generously before going outside, then again once you go outside to ensure even application. Then reapply at least every two hours. Although sun screens do increase your protection against the effects of ultraviolet rays, they should not be used to extend your time in the sun.
Soothing the Effects of Mild Sunburn
If you do happen to spend too much time in the sun, you may end up with a mild sunburn. This burn can be painfully irritating if left untreated. Here's an excellent homemade remedy that can soothe the effects of a mild sunburn. Place 4 tea bags and 16 tablespoons of dried mint (or 32 tablespoons of fresh mint) in a saucepan with 2 cups (about 500 ml) of water. Bring the mixture to a boil over high heat. Reduce the heat and simmer for five minutes, then remove from the heat and let stand for 15 minutes. Strain the liquid into a jar and let cool (you can discard the mint and tea leaves). For small patches of sunburn, you can dab the mixture on your burn using cotton balls or a washcloth. For larger areas of sunburn, add the liquid to warm bath water and soak in the mixture for ten to 15 minutes. Repeat as necessary. Please remember this is for mild sunburn only. Severe burns with blistering or crusting should be evaluated by a doctor.
You should also be aware of the healing and soothing properties of aloe vera gel. This clear substance found inside the long, spiky leaves of the aloe vera plant contains a variety of ingredients that work together to soothe your sunburn and help your skin heal. You can keep an aloe vera plant at home and break off a leaf as needed, or you can purchase pure aloe vera gel in a bottle for convenience.
Those are the basics of protecting your skin against the harmful rays of the sun. We all have some natural protection, but it is imperfect and may not provide the level of protection needed. Properly applying sunscreen with an SPF of 15 or greater normally helps to avoid the pain of sunburn. However, when sunburn does occur, you can soothe the irritation with natural ingredients.
You might also like...