Make Your Own Deodorant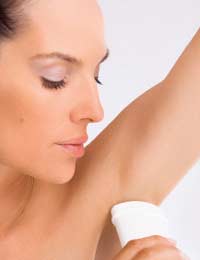 You can easily make your own deodorant at home, if you've been thinking about switching from shop-bought brands. After all, nobody likes to think that they smell, but unfortunately there's no getting away from the fact that body odour is just all part and parcel of the human condition.
Of course, undertaking daily ablutions and good hygiene practices help to eliminate the bacteria that cause stinky pits! The application of antiperspirant deodorant can help to keep sweating at bay. Some deodorants simply mask the bad smells. But although the shop bought deodorants on offer are undoubtedly effective, are they necessarily the best option?
Health and Finance
Many deodorants contain aluminium oxide, and it has been suggested that the accumulation of this chemical in the body can eventually cause major health problems. Along with other skin care and cosmetic products, the synthetic chemicals used in most deodorants can also prove to be skin irritants for many people, particularly since the underside of the arm is one of the most sensitive areas of the body.
You should also bear in mind that perspiring is the body's way of expelling toxins and urea from the body. Whilst it's not always socially acceptable to sport sticky or wet armpits, sometimes in private just letting your body do what it needs to do is the best option.
As with all things in life, moderation is the key. For instance, if you're planning a marathon gardening or housework session, why not just take a shower and deodorise afterwards? You know it's going to be hard work, so just let it all hang out. No one will know!
Simple Homemade Deodorant Solutions:
Branded deodorants also cost a considerable sum of money, and often don't work as effectively when used sparingly. You can make your own natural deodorants at home for a fraction of the price, and help to keep your health in tact too.
1. Bicarbonate of Soda
One of the most simple solutions for a homemade deodorant is to use bicarbonate of soda. This naturally-derived chemical compound has natural deodorising qualities. You can add bicarbonate of soda to your bath water, or add to cornflower to soften for use under the arms like talcum powder.
2. Sage
Sage is also known for it's ability to reduce sweating, especially for women going through the menopause. Drinking sage tea regularly is a great start. For an all-natural deodorant, try padding it under the arms or making a sage dilution and misting into your armpits to help reduce sweating, and therefore reducing the need for antiperspirant deodorant.
3. Cider Vinegar
Another simple natural deodorant is apple cider vinegar. You can dilute the vinegar with water and apply with cotton wool balls under your arms. After a little while, the vinegar smell will evaporate and you can dress without smelling like a chip shop all day!
4. Add Herbs and Plants for a Feminine Twist
Cider vinegar can also become the base for a more feminine deodorant. You can add ingredients such as witch hazel, lavender (drop of essential oil, fresh or dried), mint, rosemary, sage and thyme to the vinegar and gently bring to the boil. Strain the leaves out and add the same volume of water to the scented vinegar for use throughout the day.
Reader's Tip
One of our readers sent us the useful snippet below. We haven't tried this ourselves but thought we'd pass on the tip for you to try.
"We have made excellent deodorant by diluting 1tsp of alum powder in 100ml of distilled water - nothing else - and then just popping it into an empty roller deodorant bottle. No scent. And no BO, this really works well. My adolescent son uses this in preference to all else. It does not stop the sweating, it just gets rid of the smell."
You might also like...
tried this with white vinegar once (not sure if you're supposed to) - it did stink a bit vinegary at first but wears off and really does get rid of the odour. Talc is good for absorbing moisture for a bit but doesn't really work to keep smells away.
Natural
- 28-May-12 @ 8:00 PM
I make my own deodorant by mixing coconut oil with baking soda and adding a few drops of essential oil. The coconut oil helps keep my skin soft and smooth.