Make Your Own Natural Facemask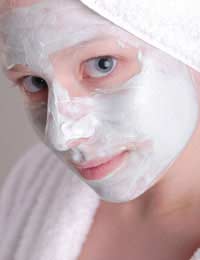 In recent years, there has been much coverage relating to the affects of certain chemicals used in beauty products. Now it seems that natural and organic beauty products are enjoying somewhat what of a renaissance. The craft of making your own natural beauty products and cosmetics is also on the increase.
It's not surprising when you consider that many standard beauty products contain potentially harmful chemicals, and that around 60% of topically applied creams can be absorbed through the skin and into the body. Parabens are commonly found in many beauty creams, and it has been suggested that a build up of parabens in the body can be linked to certain types of cancer.
Traces of paraben have actually been found to be present in cancerous tumours. Next time you're browsing for a beauty product, check out the ingredients list - you'll be shocked to see just how many parabens, such as methylparaben, are present in your product.
Even products labelled as 'natural' can be misleading, as they may contain minute amounts of naturally derived products that have undergone a significant amount of processing. They may also contain many other additional cheap 'filler' ingredients that are often irritant or damaging for the skin. Talc and bismuth oxychloride are two such examples.
The only way to truly make sure that you are using natural beauty products is to make your own. One way to get started is to make your own natural facemask, using organic ingredients.
Why Make a Facemask?
A natural facemask is a great way to draw out impurities from your skin. Everyday exposure to pollution, dust, other toxins and additional wearing of makeup can take a real toll on your skin, and sometimes it needs that extra bit of help to completely cleanse and purify itself. A face mask will also help increase the blood circulation, as well as aiding lymphatic drainage. Face masks can help improve poor skin conditions such as eczema and acne, as well as being beneficial for maturer, more delicate skins.
Natural Clay Facemask
The most basic natural face mask that you can make is made from clay. Clays vary in colour, and each type of clay is sourced from different locations from around the world. The different clays have different properties and colours, as they contain various enzymes and minerals that are beneficial for skin. So the type of clay you use for your face mask will depend on your skin type, as some clays such as kaolin clay are more effective at drawing out moisture and excess oil from your skin than others.
Below is a general guide to which clay would best suit your skin type:
Sensitive Skin - White Clay
Oily Skin - Kaolin Clay (white, pink or yellow) or Montmorillonite Clay( red or blue)
Balanced/Normal Skin - Dead Sea Mud or Green Clay
Mature Skin - Dead Sea Mud or Green Clay
Those with particularly dry skin should avoid clay face masks, as it is very efficient in drawing out the oils required to make dry skin more balanced.
Before applying your clay mask, make sure that you remove any makeup or traces of moisturiser. The clay should be applied for no more than quarter of an hour, after which time you should wash the clay off, exfoliate and moisturise as normal.
Alternative Natural Facemask Recipe
For those who should avoid clay facemasks, there are a few alternatives. The first is to combine 1 cup of slightly chilled natural yoghurt with ½ cup of oatmeal. The mixture should be applied to the skin for around 15 minutes, before removing with warm water. Exfoliate and moisturise as normal.
The second alternative is to use one egg white or a teaspoon of aloe vera gel or juice, 2 teaspoons of a vegetable oil such as olive oil or sunflower oil, and one teaspoon of pure apple juice (not from concentrate). Combine the ingredients in a small mixing bowl and then apply to the face for 20 minutes or so or until air-dried. You can also add an additional teaspoon of pearl powder to the mixture. Again, remove, cleanse and moisturise as normal.
To really benefit from using facemasks, the trick is to apply them fairly regularly, two or three times a week perhaps, depending on your skin type.
You might also like...