How to Make a Green Roof for Your Shed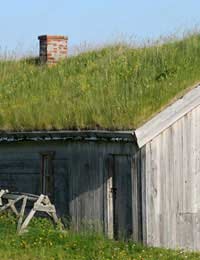 A green roof is a fantastic way to transform a dull, functional space into something that's living, breathing and aesthetically pleasing. Green roofs have been growing in popularity over the past decade, not least because they expand your gardening space by adding a beneficial and interesting feature to your garden.
Why Build a Green Roof?
A green roof is basically a roof that supports the growth of grass or plants. Green roofs are most commonly planted onto shed roofs, and prove to be beneficial in a number of ways. Firstly, a green roof will provide an extra growing space, which will provide additional colour and texture to your garden, as well as providing an additional space for wildlife. A green roof can help an uninteresting and plain roof area blend into a landscape. Green roofs may also help in a small but significant way to reducing carbon emissions.
A green roof will also provide sound and heat insulation for your shed. Because a green roof adds an additional layering and protection from the elements, this means that the 'life' of your shed roof will be prolonged. Ultimately this means that any shed roof maintenance or replacement will be far less frequent. If you think that wasn't enough, a green roof will also reduce the amount of runoff after rainfall, decreasing flooding and damp around the foundations and surrounding area of your shed.
Types of Green Roof
There are two basic types of Green Roof – intensive and extensive green roofs. An intensive green roof will requite much more maintenance, as it supports a variety of plants and utilises water irrigation systems.
This article, however, focuses on building an extensive green roof. These types of roofs require much less maintenance, but the type of planting is limited to drought-tolerant, weather-hardy plants such as Sedums, alpines, mosses, flowering herb, wildflowers and super-vivums.
Before You Begin
Before you begin building your green roof, you should make sure that your existing shed roof is strong enough to take any extra weight upon it. Check that there are no areas of damp or rotting wood, and that there are no splits or holes. Make sure that the roof is also waterproofed; an additional waterproof layer may need to be added if you're in any doubt.
Also take into consideration that a green roof that's been saturated with rain will weigh a great deal. You can reinforce your shed roof to support a green roof by adding to the supporting framework, and adding an extra layer of marine ply. A new shed should be designed so that the roof can support an extensive green roof.
Building Your Green Roof
A green roof can be constructed on a flat roof. However, shed roofs most commonly have pitched roofs. Ideally, the pitch of the green roof should be around 9-10 degrees, as this is not only best for the plants but also reduces the need for retention to stop the roof sliding or slipping. To help avoid the roof slipping, you can divide the area in to 6 squares with timber framing, thick enough to support your gravel, soil and plants.
A green roof is constructed from a number of layers that protect your shed roof, and support the plants that are grown in it.
To start, you'll need to put down a layer of membrane. This can be a 300 micron damp proof liner, or alternatively you can opt for pond liner. Make sure that this layer covers all edges of the shed to avoid water seeping in.
For the next layer, you'll need to put down a layer of weed suppressing membrane. This helps to contain the roots of the plants so that they don't try to grow down through into the bottom layers.
Once this layer has been secured, you'll need a layer that will help to retain moisture. This can be achieved by laying down old blankets, or if you have a little more money to spend, you can opt for Geotextile membrane. This type of membrane is resistant to fungi and bacteria, as well as soil acids and alkalis.
You can then lay down around an inch layer of gravel or limestone chips to aid water dispersal and drainage. After this, another inch or so of soil can be added. As the plants that you'll be planting will prefer poor, sandy soil, it's best to mix some horticultural (sharp) sand to your soil to provide the best growing environment. Once the soil has been levelled, you're ready to plant! Yes, it really is that easy!
With rainfall, your green roof should be able to support itself with little maintenance. However, in times of extreme drought and hot weather, you may need to water it very occasionally. If you choose your plants correctly, however, once the constructive work has been undertaken, you can spend the vast majority of your time admiring and enjoying the benefits of your new green roof.
You might also like...
I want to cover a large log cabin using a sedum blanket.Is it possible to buy the basic blanket for planting up yourself?
Agama
- 10-Jul-18 @ 12:36 PM
Very informative... Fingers crossed :-)
Joe
- 13-Jun-12 @ 11:41 AM
Wonder how this grass been cut...............
Avra
- 1-Nov-11 @ 11:05 AM
wow..! This is a great explanation for the people who are looking for building a green roof for their shed. Thanks for sharing guys keep on updating
shedsnhome
- 23-Sep-11 @ 6:03 PM