Make Your Own Natural Exfoliator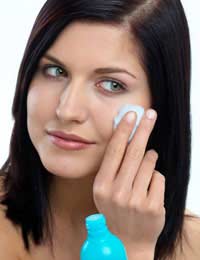 Exfoliation should be a fundamental part of your weekly beauty regime. You can make your own exfoliator at home from a range of natural ingredients.
Natural skincare is a must, as much of what we apply to our skin can be absorbed into the bloodstream. Making your own exfoliator at home will cut out nasty and harsh synthetic chemicals - after all, nature usually knows best!
Using many food-based ingredients for exfoliators will not only help to nourish your skin, but you'll probably find that you save a lot of money in the long term! Although many of the recipes and tips listed here will not keep for more than a couple of days, you'll still find that using only the necessary ingredients will save a few vital pennies.
When you take into account the fact that you're supposed to exfoliate regularly a few times a week, the cumulative savings that you make with your home made exfoliator will definitely add up to a significant saving.
Finally, buffing the skin regularly also has the added health benefits of not only revealing beautifully soft, even-toned and vibrant skin, but also aiding blood circulation and lymph system drainage. So if you don't already scrub regularly, then you should start now!
Make a Simple Exfoliator
The most simple exfoliator treatment you can find is a sugar and water solution. Simply soak your face with a warm flannel for a few minutes, before applying the sugar and water solution, and gently massage into your skin before rinsing off. This will do the basic job of gently removing dead skin cells and grime from your skin, combating problems such as spots and acne.
Another alternative to sugar is sea salt. Whilst sugar is great as a facial exfoliator, sea salt is a little more abrasive and can be used over the entire body, paying particular attention to tough areas such as knees and elbows.
Make sure that before you apply the sea salt, the skin is wet. It's best to use these 'loose' scrubs in the shower, so that they can be easily rinsed away!
You can also try soaking and then scrubbing your feet in Epsom salts for a soothing and revitalising experience. Adding a few drops of essential oil can also add to the experience. Lavender essential oil is great for relaxation and soothing, whereas peppermint oil will rejuvenate and stimulate.
Natural Exfoliator Recipes
If you'd prefer a more soothing natural exfoliator, you can use porridge oats mixed with a little grapefruit juice. Simply make up a paste by adding the grapefruit juice to a small bowl of oats, and then apply to your face, gently massaging throughout the application.
The exfoliator mask can be left on for around quarter of an hour. To remove, again massage the skin with a wet flannel and rinse away. Your skin will be left feeling ever so smooth and supple. You can produce larger quantities of this exfoliator to use in the bath for all-over body smoothness.
Another alternative natural exfoliator recipe is using ground avocado seed mixed with a banana mash. However, you'll need a few days before you can use this exfoliator, as the avocado seeds will need to be removed from the fruit and dried before they are ground down into a natural exfoliating powder. When added to the banana, they create a natural yet effective exfoliator that can be used all over the body. You could also try replacing the avocado stone with ground apricot stones.
You might also like...
It's very affordable. Everyone i think can afford that alternative yet healthy and natural exfoliator thanks . I'll really try that .
Sue
- 19-Jun-14 @ 8:52 AM
Is sea salt the same as table salt? If not, where can you find sea salt? Thanks!
s squared
- 30-Jul-12 @ 11:38 PM
Great ideas - I especially like the sea salt one since that's what I have on hand. Thanks
sharon
- 20-Mar-11 @ 10:44 PM