Make Your Own Gift Wrap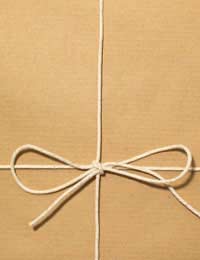 There are a couple of very good reasons why you should try to make your own gift wrap. Firstly, it is thought that around 83 square kilometres of gift wrap paper ends up in the bins of UK householders each year. The majority of this waste is accumulated over the Christmas period.
Although much of this wrap can be recycled, there are certain gift wraps that are not as easy to recycle, particularly if they have a metallic, flock or glitter quality. Whilst one easy solution is to buy recyclable ready made gift wrap, another more creative and fun answer to this problem is to create your own home made wrapping paper.
This brings us to the second reason as to why you should make your own gift wrap. You could actually find that it's a cheaper alternative to buying high-end recyclable paper. If wrapped with raffia, ribbons, bows or string, the paper can also be re-used time and again, making it even more economical!
Making your own gift wrap is also a great way to engage children and adults alike in a creative activity. You can create a plethora of designs for any occasion, be it Christmas, a wedding or birthday. Making your own wrap also gives that little extra personal touch to the gift it encases, something that will undoubtedly be appreciated by the receiver.
Gift Wrap for Beginners
A great way to get started with making your own gift wrap is to create simple patterns using potato prints. Potato printing is very easy – simply cut a potato in half, carve out a relief of your pattern (the simpler, the better quality the print tends to be) and dab on some kitchen roll to get rid of surface moisture from the inside of the potato. You will then need to lightly dab the potato into your paint.
You may find that you need to make one or two preliminary prints to remove excess paint before making the final impression on your gift wrap paper. You can also apply this technique to tissue paper used to wrap more delicate items.
Potato prints needn't be restricted to the realms of a child's art and craft lesson – the quality of paper used as a background can add a degree of sophistication to this technique!
For instance, simple brown parcel paper that is bought by the roll can look very simple and elegant when adorned with simple Christmas tree or star prints. You can embellish the prints by hand using paints or natural materials.
Natural Materials to Create Wrapping Paper
You don't have to be restricted to potato prints. There are many natural materials that you can print from. Leaves are one fantastic example – simply lightly paint the underside of the leaf (where the leaf veins are more pronounced) and gently press onto your paper. Why not try creating textures and random patterns using natural materials? Rolling pine cones or taking rubbings of bark will also create an interesting look and feel to your wrap. A quick scout around your garden or local park will uncover a whole host of potential mark makers!
Other Materials for Gift Wrap
Gift wrap doesn't necessarily have to be made using paper. Have you ever considered making truly reusable gift wrap using material? Sourcing cheap vintage materials from thrift shops, or off cuts and ends from the bargain bin at your local material department is a great way to bring a new angle on gift wrap.
Organza in particular adds a classy touch when layered against other fabrics. You can easily embellish the material with ribbon or some simple stitching. Material can be easily gathered and pinned with an old brooch or tied together with ribbon or a bow to secure it.
A slightly cheaper alternative is to consider using materials such as butcher's or greaseproof paper. You can have a few layers that are tied up with ribbon, raffia or string to create a simple, vintage look. The key is to experiment – and be pleasantly surprised with the results!
You might also like...