Make Your Own Recycled Paper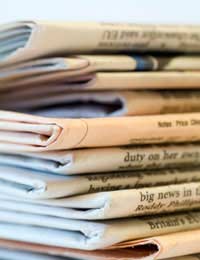 We all know that paper comes from trees, and the more paper we use, the more trees that tend to be felled. Despite the fact that recycled paper is steadily become more widespread, the majority of paper products we use in our homes and offices use virgin fibres.
There are many ways to take a green approach to paper use. Firstly, you can try to reuse and recycle envelopes or paper whenever possible. You could also try buying recycled paper in place of 'new' paper.
But why not try making your own recycled paper for home use? Making recycled paper is also a great way to get kids involved in recycling. If you become particularly adept at making recycled paper, you could start replacing shop-bought paper with your homemade efforts.
Recycled homemade paper can be used as writing or notepaper if pressed. It can also be used in art and craft projects such as paper weaving or card making. Another use for thicker homemade recycled paper can become part of artisan items such as hand-bound books. This article takes a look at how to make your own basic recycled paper at home.
Getting Started
You'll need the following equipment and materials:
An old newspaper and paper scraps
Bucket
An old or second-hand food blender
A wooden or plastic picture frame
A pair of old nylon tights
Drawing pins
A large washing up bowl, tub or tray (for immersing the frames in)
How to Make Your Paper Mould
Making the paper mould is very easy. You simply take your picture frame, and remove any backing or glass so that you are just left with the bare frame. You can then stretch the nylon tights (or, alternatively, nylon screen if available) across and pin firmly in place with drawing pins. It's a good idea to bear in mind that the thicker the mesh on your mould, the thicker the paper will be. You may want to experiment with different gauges of mesh to get your desired result.
Method:
1. You'll need to start by tearing up newspaper or paper scraps (matte paper, not shiny or glossy) into strips and then squares, and soaking in a bucket of water for a few hours, or overnight.
2. After this time, you will then be able to blend your paper down into a pulp in the food blender. You will need to add water at a ratio to around 1 pint for every large dessert bowl of paper you blend. It is a good idea to switch the blender on for very short bursts to reduce the likelihood of clogging or blender overuse. You'll need roughly two and half blender portions' worth of pulp to make a your first batch of papers.
3. You can then fill the large container with water, and add half to one pint of pulp to the water (depending on the thickness of paper you want) and stir lightly. You will then need to submerge your paper mould into the watery pulp.
4. You will need to submerge the frame slowly to the bottom of the water container. To capture the pulp in the water, you need to then slowly bring the mould back to the water's surface. Once you've taken the mould out of the water, leave it to drain over a sink for a few minutes. At this point you can also add in extra features, such as leaf skeletons.
5. After this time, you can then turn out the paper onto some sheets of newspaper, a towel and some fine cotton linen (not your best!) cut slightly larger than your paper mould. Turn the mould upside down onto the linen's surface, and gently rock the mould back and forth to peel it away from the nylon mesh. As it lies on the linen, the towel underneath should soak up any excess water. If you have several sheets of paper made in one batch, you can layer up by placing each new piece of paper on layers of towel and linen over your first piece.
Pressing Your Paper
There are several ways to press your new handmade paper. The heavier the press, and the harder the surface the paper is flattened against, the flatter and thinner the paper should turn out. You could try stacking the new paper in-between sheets of linen pressed down with heavy books, boards and bricks. Alternatively, you can buy special paper presses, but these can prove to be quite a costly option.
Remember that during the pressing stage, all the excess water will be pressed out of the paper. For this reason you should make sure that you have enough towels to hand, or have placed your paper somewhere where excess water run off won't be a problem!
The pressing stage should take no longer than around 8 hours, or overnight. After this time, you can remove each layer of paper and hang up to air dry on a clothes line with the linen still in place. Once the paper is completely dry, it should be easy to remove the linen pieces to reveal your new recycled paper sheets. If you want to add an extra smooth surface, you can leave the linen on and iron over with a hot iron.
Tip
Why not add an extra dimension to your paper by scenting it? Just a few drops of essential oil added to your pulp will suffice.
You might also like...
I want to purches a small waste paper packer.Please let me know if i can buy one and the cost yours sincerely tony mc mahon.
redbul
- 12-Sep-13 @ 1:49 PM