Make Your Own Cushions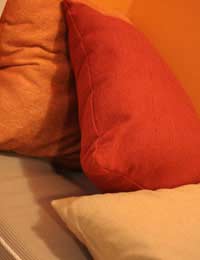 Making your own cushions is a fantastic way to recycle old materials for a new, functional purpose. If you need replacement cushions, or are thinking up a new interior design scheme, why not opt for making your own bespoke cushions?
Cushion making is also a great project for older children, as the craft of making cushions helps to develop a useful skills, as well as creative flair.
This article explores how to make a straightforward circular cushion. However, once you've mastered the simple cushion-making craft, you can also further your skills by moving to design more complicated shapes – you needn't be restricted to the standard square of circular cushion shapes!
Getting Started
If you want to learn to make your own cushions, a simple square cushion is the easiest way to get started. But just because it's simple doesn't mean it can't be beautiful. You have design choices even with square cushions. You cushion can be enhanced with standard piping, ruched trim, appliqué designs, even tassels and fringing.
Foam for the inside of your cushion is usually available in a range of pre-measured sizes. If you need a size that isn't available, you can find a store that sells foam by the yard and buy the size you need. Don't stray too far from your original measurements, but get something just a bit larger than you need. This will account for the foam's compression once it's covered.
Choosing Fabric
To make your own circular cushion cover, you can save money and valuable resources by choosing recycled fabric. Recycled material for your cushion can consist of small scraps of leftover fabric quilted together, or vintage material sourced from charity shops or thrift stores.
The type of fabric you choose will depend on how you intend to use your cushions. For instance, if you plan to use your cushions as outdoor or patio furniture cushions, they may need to be covered with waterproof or other weather-resistant material. However, covers made for indoor seat cushions can be made using more delicate fabrics.
Consider questions about the cushion use such as: is it functional? Will it get lots of abuse? Does it need to be washable? Or is it purely decorative? Will it be used in your living room or on the garden furniture? Are you making chair cushions, sofa cushions or scatter cushions?
How you answer each of these questions will lead you toward certain fabric choices. Regardless of how you plan to use it, you should stick to upholstery fabric that is machine washable, or at least dry cleanable.
Cushion Making Instructions
Here are the steps to make your own cushions:
1.To make the cover, begin by measuring the foam pad. Add an inch to each measurement. This will give you a half-inch allowance on all sides.
2.Cut two pieces of fabric to these measurements. This will give you two identical square pieces of fabric.
3.Pin the two pieces of fabric together, making sure that the finished side of both pieces is facing in. In other words, you are assembling the cover "inside out."
4.Sew around three edges and all four corners, but leave one edge open.
5.Now, turn the fabric "right side out" and insert the foam.
6.Turn under the edges of the opening to match the other edges and slipstitch (a slipstitch is a concealed stitch used for sewing folded edges).
7.Now you can add embellishments like piping or fringe if you wish. Other options include adding a zipper or leaving an opening so you can remove the cushion cover for cleaning.
Once you master this simple type of cushion, you can branch out into other designs and techniques. When you are able to make your own cushions, your decorating will never again be limited to the available stock at your local home store or department.
You might also like...