Make Your Own Musical Instruments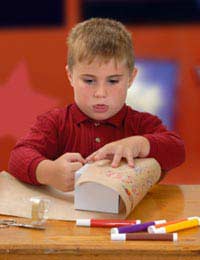 Musical instruments are great fun to make with and for children of all ages. You can often create them from everyday household items.
How to make your own tambourine
A tambourine is one of the easiest musical instruments to make at home. All you need is:
Two heavy duty paper plates (Alternatively you could draw round a dinner plate and cut out two card discs)
Glue
A hole puncher
String or ribbon
'Bells'. You can use small bells from a craft shop or use old household keys, washers or bobbins – anything that jingles!
Decorations to decorate the tambourine, for example crayons, sequins, glitter and fancy paper.
Glue the plates/cardboard together. Punch holes around the edges of the circles. Tie your bells through the holes with ribbon or string and knot them carefully.
Decorate the tambourine in any way you choose.
How to make a drum
Kids love to play with drums and luckily they're easy to make. You'll need:
An empty cereal box
Wool
Tape or glue
Two spoons
Graph paper
Decorations
Start by decorating the cereal box. You could stick coloured paper onto it or cover it with glitter or pictures from greetings cards, for example. Tape the flaps at either end of the cereal box closed and then make a hole in the centre of the top and bottom of the box. You are aiming for your child to be able to wear the drum like a cinema usherette's tray.
Thread a piece of wool through the holes in the box. The wool needs to be long enough to go round your child's neck and for the drum to be worn around their waist. Your child can use two spoons as drumsticks.
How to make a xylophone
Homemade xylophones are a good way for children to learn about music. You will need:
Glass bottles and jars
Water
A metal spoon
Fill the glasses and jars with different amounts of water. A glass or jar with less water in will result in a higher-pitched sound, whereas those with more water will produce lower notes when struck gently with the metal spoon.
Children should be supervised with this instrument due to the use of glass.
How to make a guitar
You'll need:
An old shoe box
Three or four elastic bands
A ruler
Tape or glue
Stretch the rubber bands horizontally over the shoe box. Three or four elastic bands should be enough. Glue or tape a ruler securely onto one end of the cereal box to act as the neck of the guitar. Your child can then strum on the elastic bands.
Make your own maracas/shakers
To make your own maracas/shaker eggs, you'll need plastic eggs, such as those you receive with Kinder eggs. Experiment with what you fill the eggs with – you could use dried lentils or sand, for example to vary the sound.
You might also like...