Make Your Own Marinades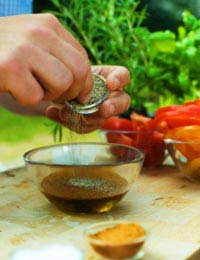 Marinating food adds to the flavour, texture and smell to dishes. Marinades are especially popular for barbecues but they're also great for indoor cooking.
What is Marinating?
When you marinate food, you soak your food – often meat, fish or vegetables – in a seasoned liquid. Marinating is popular in all sorts of international cuisines, such as Caribbean cooking and Indian food.
There are three core ingredients which form the basis of a good marinade. These are:
Acids – such as vinegar, orange, lemon or lime juice
Oils – such as nut oil and olive oil
Seasoning – such as dried or fresh herbs, garlic, salt and pepper
Other common ingredients used in marinades include:
Ketchup
Sugar
Soy sauce
Worcester sauce
Yoghurt
Whisky
Marinating can make a big difference to your cooking but to get the best results you need to plan ahead to some extent as the longer you can let your ingredients marinade, the richer the flavours will be. You usually need between an hour and six hours for a marinade to work.
Basic Marinade
This marinade is suitable for most meats, fish and vegetable. You can also marinade cheeses such as paneer, halloumi and goats' cheese.
You will need:
2 shallots cut into four
Half a large onion, sliced finely
2 chopped or crushed garlic cloves
2 tablespoons chopped coriander (leaves, not stalks)
2 tablespoons chopped flat leaf parsley
3 bay leaves
Freshly ground black pepper
1 teaspoon dried oregano
2 tablespoons white vinegar
8 tablespoons olive oil
Salt
Blend all the ingredients together, except the oil, then stir the mixture into the oil. Allow meat, fish or veg to marinate in the mixture overnight.
Spicy Marinade
Spicy marinades are very popular. Try this and adjust the heat to suit your tastes.
You'll need:
6 tablespoons of olive oil
3 tablespoons of fresh chopped oregano
3 chopped garlic cloves
2 teaspoons dried chilli flakes
Salt
Pepper
Just mix all the ingredients together and marinate. This recipe is versatile and particularly suits chicken, fish and steak.
Yoghurt Marinade
Yoghurt marinades work especially well on chicken and lamb. Try this one on chops or chicken legs. It's a great tenderiser, as well as adding flavour.
You'll need:
1 finely chopped onion
3 cloves crushed garlic
100g greek yoghurt
The juice of one lemon
Half a teaspoon smoked paprika
Half a teaspoon paprika
1 tablespoon finely chopped flat leaf parsley
1 tablespoon finely chopped mint
Salt
Pepper
Leave the meat to marinate for at least two hours.
Marinade Tips
Always marinate in the fridge – don't leave meat and fish out at room temperature
Don't marinate anything for longer than 24 hours
Don't marinate in aluminium containers – use glass, ceramic or plastic.
An easy way to marinate ingredients is in sealable plastic bags such as freezer bags
Never re-use leftover marinade that has been in contact with raw meat or fish
If you want to use marinade for cooking or basting while meat cooks, keep some back to do this
You might also like...