How to Make Your Own Vinaigrette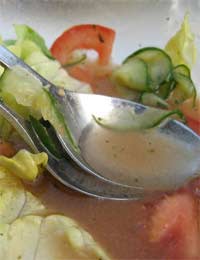 Let's face it, salad can be tasty, but when you add a dash of vinaigrette, it takes it to a whole new level! There's no need to splash out on expensive, branded salad dressings – homemade vinaigrette is so delightfully straightforward that you'll wonder why you didn't try it before now!
Simple Vinaigrette Recipe
To make this classic French salad dressing, you'll only need four ingredients:
French Dijon Mustard
Vinegar (preferably red wine vinegar)
Olive Oil (preferably extra virgin)
Water
TIP
: The amount of vinaigrette you choose to make obviously depends on your needs. Bear in mind that vinaigrette needs to be used within one to two weeks, and should be stored in the fridge. When deciding how much you need, the general rule of thumb is that vinaigrette should be made with one part vinegar to three parts oil. By following this rule you can make small or large batches that produces a vinaigrette that's not too oily or acid.
This recipe is for a small batch of French dressing, so you can adjust quantities to suit your needs as necessary.
Two Basic Vinaigrette Methods
There are those that believe only the best vinaigrette can be made by very slowly combining the ingredients. However, if you're a bit rushed for time, there are two basic ways to make vinaigrette and still get some fantastic results.
The first method is to simply measure all the ingredients in a jar, put the lid on and shake to combine. However, this may not always produce the best results, so this recipe focuses on the second, somewhat less vigorous method!
Make Your Own Vinaigrette
To start, you'll need a bowl and small handheld whisk.
Measure out two teaspoons of your French Dijon mustard. If possible, try to opt for a good quality mustard.
Next, add a tablespoon of the red wine vinegar into the bowl.
Carefully whisk together the ingredients to ensure that they are evenly combined in the mixture.
At this point you can add a dash of salt to season. You may want to season to taste, but be aware that the mixture will be very potent!
Once seasoned, you can then measure out three tablespoons of olive oil. Again, the best quality olive oil – extra virgin – will produce the best results, but really any oil will suffice. Pour the olive oil into the bowl and lightly whisk the mustard, vinegar and oil until evenly combined.
At this stage you can do a taste test on your vinaigrette. If you find it too strong or too acidic, you could try adding a few drops of water, again making sure to combine evenly.
Storage
Your vinaigrette will need to be stored in a jar or oil decanter in your fridge. It can be kept for between one to two weeks, but will need shaking before each use, as the settled French dressing will separate.
A Different Taste
Of course, your vinaigrette will prove to be a complete success! But if you're interested in developing a range of different flavoured vinaigrettes, you could always try experimenting with adding different flavours.
For instance, by dropping a few pieces of fruit into your dressing (which renders the vinaigrette only suitable for use for three days), you'll add a whole different taste sensation. Likewise, the addition of herbs, berries and citrus fruits will add a new twist. Mint and avocado or a simple addition of garlic are two ideas to get you going if you're stuck for ideas.
You might also like...