Make Your Own Soups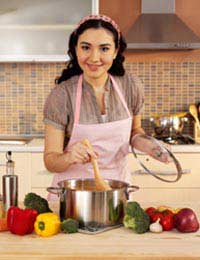 Soup is a cheap, healthy and filling meal option. Although shop-bought soups can be nice, once you learn to make your own soup, you're unlikely to go back to the tinned stuff.
Soup is also an excellent way to use up leftovers, such as vegetables, meat, herbs and carcasses.
Stock
The basis for a good soup is the stock. If you're in a rush, instant stock works well enough, but making your own stock is really easy and does produce the best results.
After you have had your Sunday roast, keep the bones of the pork, beef or lamb. Put them in a pan of boiling water with onions, carrots, celery, bay leaves, salt, pepper and herbs.
You can do the same with chicken bones or a carcass.
Bring the stock to a simmer. You'll notice that after a while, the stock will develop a foamy surface – you need to keep skimming this off. Keep tasting the stock and once it tastes good, it's ready. This should take about two hours. You can then drain and use the stock.
If you want to make the stock even richer, you can reduce it for a while after you have strained it.
Fat may solidify on the top of the stock. Just skim this off.
To make vegetable stock, add a splash of olive oil to a pan, then add any vegetables you have available, alongside garlic, and stir for two minutes. Add water until the vegetables are covered. Sprinkle in salt, pepper and herbs. Simmer for 20 minutes and drain.
Stock can be frozen for use later.
Basic Vegetable Soup
A basic vegetable soup is the easiest place to start for soup-making beginners. Once you master this basic recipe, you can begin adapting it to make other soups.
You will need:
One to two tablespoons olive oil
Two cloves garlic
One white onion
One medium-sized potato
Two carrots
Two sticks of celery
Enough stock to cover the vegetables(see above)
One bay leaf
Mixed herbs
Salt
Pepper
Chop the vegetables quite finely. Add the olive oil to a pan and sweat the vegetables and garlic for a few minutes. Add the stock, herbs, salt and pepper and bring to the boil. Turn the heat down so the mixture is simmering. Simmer until the potatoes are soft. Remove the bay leaf.
Once the soup is cooked, you can either liquidise it in a blender or serve it as it is.
You can vary this soup by any of the following methods:
Add a splash of white wine and lemon juice
Stir in crème fraiche before serving
Add butter beans or chickpeas
Vary the herbs you add
Add chopped tomatoes
Serve with hot, crusty bread.
Basic Chicken Soup
You will need:
One to two tablespoons olive oil
One onion (chopped)
Two carrots (chopped)
Two sticks of celery (chopped)
Two chicken breasts or other leftover chicken meat
Enough chicken stock to cover the ingredients (see above)
Salt
Pepper
Herbs
Bay leaf
Two cloves garlic
Heat a splash of oil and add the garlic. Fry off the onion, carrot and celery. Add the stock, seasoning and chicken. Simmer for 20 minutes. Once cooked, remove the chicken and shred it with a fork or your fingers. Return the chicken to the pan.
You can then either blend the soup or eat it as is. You may choose to add a little cream to taste or eat the soup as more of a broth.
You might also like...