Ten 'Make Your Own' Uses for Lemons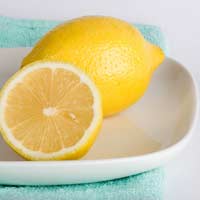 Lemons are cheap, natural and, above all, useful! Here are a number of innovative ways to make the most of the humble lemon.
Lighten Your Hair
If you already have blonde or light hair, lemon is a great natural highlighter which will help accentuate your hair's natural beauty. It won't significantly lighten darker hair.
To lighten your hair with lemon juice, choose a sunny day! Rub some fresh lemon juice into your hair evenly, taking care to reach the roots and the hairline. Leave the juice in your hair for around an hour while you sit in the sun, then rinse. Leaving it much longer than this can dry your hair out.
You can repeat this process once a week for a limited period to get the desired effect but be careful that the acid does not dry out your hair.
Good Health
Lemon juice has many reported health properties and many people swear by it to ward off or soothe colds or sore throats. Try drinking a lemon squeezed into hot water every morning to keep bugs at bay. If you're suffering from a cold or sore throat, drink it in hot water with some honey.
Cleaning
Lemons are a great natural cleaner. Baking soda used with lemon juice will clean and brighten a variety of surfaces such as chopping boards, sinks, draining boards, taps and work tops.
De-greasing
Lemon juice also makes a great cleaner and shiner for glass and windows. Add half a lemon to a bucket of water and buff off with newspaper.Adding a good squeeze of lemon juice to washing up water, as well as washing-up liquid, can help to cut through grease.
Freshen Up
Lemons will also add a lovely citrus-fresh scent to places that tend to get stinky, such as microwaves and fridges. To freshen a fridge just place lemon halves in the fridge or soak a sponge in lemon juice.
To refresh the smell of your microwave, squeeze half a lemon into a cup of water and microwave for around three minutes.
Putting a lemon in your dishwasher will also neutralise any unpleasant odours.
Clean Hands
If you've been cooking with pungent ingredients such as garlic or fish, you'll know they can often make your hands smell for a while afterwards. Try rubbing lemon juice on them to neutralise the odour.
Super Salads
Squeezing lemon juice over fruit, veg and salad will keep them looking fresh. It will prevent foods such as apples, avocado, cauliflower and potato from becoming discoloured while cooking or standing.
Ice and a Slice
Add slices of lemon to ice cube trays and top with water before freezing. They make great two-in-one refreshers to add to cold drinks.
Exfoliate and Smooth
Lemon can be used in a number of beautifying processes and one is to exfoliate the skin, leaving it smooth and free of dry skin. Mix pulped lemon with brown sugar and gently scrub dry areas such as feet, heels, elbows and knees with it.
Keep Ants Out
Lemon juice is commonly said to repel ants. Try squeezing it around areas which are prone to ant problems.
You might also like...
I want to make my own cleaning products,,dishwash and everyting,need recipes and help
sally
- 15-Feb-17 @ 11:08 AM