Make Your Own Water Butt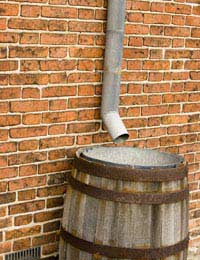 In the UK, sometimes there's no telling whether our water butts are going to be brimming over or stone dry during the summer. The weather is becoming unpredictable, which is why it is always best to be prepared! Those that live in the South East and East Anglia will be well acquainted with the hosepipe ban. For this reason, a real need for water conservation is another motivation for making your own water butt.
By making your own water butt, you will benefit in a number of ways. Firstly, you can site several water butts around your garden or allotment, so that you don't have to trek to and from one water source. Secondly, rainwater is free, so if you have a lot of watering to do, you want have to rely on your drinking water supply - extremely handy if you're on a water meter!
Thirdly, some plants really benefit from rainwater, as it is slightly acidic (and unfortunately, due to pollution, is becoming more acidic). Plants that love ericaceous soil - such as rhododendrons, camellias and blueberries - will benefit from the acidic quality of rainwater. The fourth benefit of making your own water butt is that you can help the environment and spare your bank account by using recycled materials. So what are you waiting for?
Make Your Own Water Butt
The best material to make a water butt with is plastic. Not exactly attractive, but recycling the plastic will ensure that it goes to good use and doesn't end up in landfill. Plastic is also the best way to keep rain water in. Although wood lined with a pond liner or polythene is a good temporary option, if the wood is not strong enough it will eventually collapse under the sustained pressure of the rainwater it holds. There is also the chance that the lining plastic will become punctured - which would result in a miserable failure of a water butt!
There are different plastic containers that you can recycle into durable water butts. Old food storage bins are one option, as they also come with plastic sealed lids. Rather than leaving an open butt, a drainpipe-sized hole can be cut into the lid, making it a bit more child and pet friendly. You can spot these sorts of bins as they are usually blue in colour, and are often available on Internet auction websites. They tend to have a capacity of between 70 (around 15 gallons) and 200 litres (45 gallons).
There are two ways to access the water with these large plastic containers. You can either leave the lid off or install a tap. Leaving the lid off will give you quicker access to the water, but it may also encourage mosquitoes to breed. If your water butt runs low, it will also be difficult to access the water at the bottom of the container.
Installing a tap may time a little more time and effort, but will make the water butt much more adaptable - you won't have to rely on the container being nearly full. Water butt tap kits can easily be found in garden centres around the country. You can seal the taps in with special aquatic sealant, but be sure that your sealant doesn't contain any fungicides, as these will contaminate the water.
You should make sure that these sorts of recycled containers are steam cleaned before use. This removes any residue that might cause fungal growths. You may be tempted to source the same type of barrel that has contained chemicals. It is best to avoid these, as removing all trace of any potentially harmful chemicals may be next to impossible.
Other Options
Another option is to source old oil drums, although these may be quite expensive and difficult to find. They are, however, a perfect capacity for water butts, as they can store a more than reasonable amount of rainwater.
Recycled oak barrels are also a perfect alternative to a commercially made water butt, and will look highly attractive too. They can be sourced from dedicated suppliers, or directly from wineries. Like the plastic food containers, you will need to thoroughly clean your barrel before use. You will also need to install a wooden spigot rather than a normal water butt tap, and again seal with aquatic sealant that does not contain fungicide.
Whatever option you go for, you'll be doing yourself and the environment a favour! The more water butts you can site, the easier your life will be. Some of the options listed here may not always be the most aesthetically pleasing, however vibrantly-coloured water butts can be concealed behind a few well-sited plants, or partitioned off behind a hedge, trellis, live bamboo or an attractive latticed willow screen.
You might also like...