Make Your Own Natural Home Cleaning Products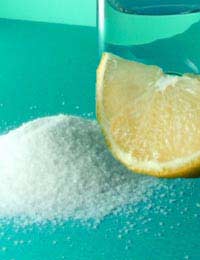 Did you know that there is a good chance that your kitchen store cupboard is harbouring some of the most effective natural cleaning products available? You really needn't spend a small fortune on the latest fluorescent-packaged synthetic chemical products. As well as saving money, the naturally derived ingredients will also be eco-friendly - great news for wildlife and marine life.
The Big Four Natural Home Cleaning Products
The three most commonly used 'natural' home cleaning products are lemon juice, vinegar, olive oil and bicarbonate of soda. These three products can be used to for almost any domestic cleaning chore, in place of synthetic branded cleaners. And because these products are commonly used to cooking, you'll be able to save space because you'll be replacing a multitude of different cleaning supplies and products with the four naturally derived environmentally friendly alternatives.
Bicarbonate of Soda
You can make many of your own natural home cleaning products using bicarbonate of soda. Because it has natural deodorising qualities, it can be used to remove nasty and stale smells from shoes, sinks, cupboards, toilets and even fridges!
Bicarbonate of Soda or Baking Powder (bicarbonate of soda and cream of tartar) can also be mixed with a small amount of water to create a highly effective cleaning paste. The paste is slightly alkaline, which means that it's great at cutting through tough grease and grime. Because of this, it is a popular natural cleaner for kitchen and bathroom surfaces.
Bicarbonate of Soda can also be used neat as a natural home cleaning product. In this form it is slightly less compromising, meaning that it can be used to combat the tougher and more obstinate stains that have previously proved difficult to remove. It can also be teamed up with a solution of vinegar and water for extra cleaning power.
Lemon Juice
Lemons have a naturally high level of acid in them, which makes them a perfect home cleaning product. You can make your own lemon cleaner by using either the juice squeezed from lemons, or a shop-bought lemon concentrate that is commonly used in cooking.
Lemon juice is a fantastic deodoriser, and is particularly good at deodorising smelly kitchen drains. It is well known for its grease-busting qualities, and can be used to clean kitchen and bathroom surfaces, leaving them free of any scum lines or hard water marks. The bonus with lemon juice is that it always leaves behind a pleasant fragrance.
This natural cleaner is also great for washing dishes and glasses, as it leaves smooth surfaces looking shiny and new. This is why it is also a popular metal polish - brass and copper in particular come up very well when polished with lemon juice.
Vinegar
Like lemon juice, vinegar is a great all-purpose home cleaner, thanks in part to its acidic qualities. It can be used on tough grimy patches, or a more diluted solution with water and sprayed on kitchen and bathroom surfaces. It's best to opt for a subtler-smelling white vinegar (such as white wine vinegar or apple cider vinegar), as using malt vinegar will be far to overpowering. When making your own vinegar cleaner, make sure that you mix the vinegar at a ratio of 1:1 with water.
Mineral and lime deposits and other bathroom scum can easily be removed with an application of vinegar. Bathroom taps can be buffed and polished, sink and toilet bowls and any ceramic tiles will be gleaming and restored if cleaned with a simple vinegar solution. However, be careful not to use vinegar on any marble surfaces.
Vinegar is one of the best, and most likely cheapest window cleaners you can find. Simply give your windows a scrub with a vinegar solution, and watch as all the dirt is lifted away from the glass. The vinegar also provides a smear-free finish, leaving windows literally looking like new.
Vinegar is also lesser known for its fabric conditioning properties. People with sensitive skin may want to replace their normal fabric conditioner with vinegar. To do this, simply substitute around ½ cup of vinegar in place of your normal fabric conditioner - you'll be amazed at the results.
Olive Oil
Olive oil is not only good for your health, but also your home! It can be mixed with lemon juice or used neat to make an effective hardwood furniture polish. Olive oil mixed with grape seed extract, water, soap and lemon juice can also make a good car cleaner for both inside and out, as it can be used on both metal and leather. As with any new cleaning product, it's always worth doing a small patch test in an inconspicuous area first. This will help you to decide whether you have the right solution for the targeted area, and will reveal if the natural cleaning product you're using is suitable for the surface.
You might also like...
These is really nice post .. simple easy and easily we can get these material at home .. and can clean our home with the help of products made by these ....
Carpet cleaners Mich
- 19-Oct-13 @ 7:27 AM
Hi Just like to let you know that I have included your website in one of my free article. Hope it is ok for you.
Felicia
- 31-Aug-12 @ 1:20 AM