Make Your Own Board Games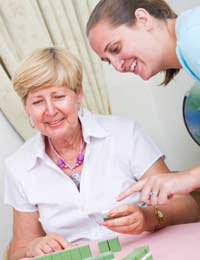 Making board games with your family is fun. In fact, it can be as much fun as game-playing itself. The board games you make can be very simple and variations can be added easily just using yours and your children's imagination.
At a basic level, all you need is a large piece of paper or card, divided into squares. There needs to be a starting point and an end point to aim for and then obstacles to introduce the game element along the way. You can make your own rules up.
For example, you could have a dice game where every time someone lands on a green square they have to do a forfeit or go back two and every time they land on a blue square they have to answer a question. They go forward one for a right answer and back one for a wrong answer. You could use tiddlywinks or felt shapes as your place markers.
You and your children can make small cards and choose forfeits and questions. Especially when children are young, it may not matter that they have seen the questions (and possibly answers) before as the recall and repetition can help them learn.
You could give your board game a theme, such as flowers, space or a TV character. You could also make the game educational if you wanted to do so. For example, the questions could be maths or spelling-based or the board could be themed around countries of the world.
Step-by-Step Guide
Here's a step-by-step guide to planning and making a game for you and your family:
Who will play the game? If it's for young children (or young children will play), you need to make it very simple so that they can understand and enjoy it. However, if the game is for adults things will have to be more complex and perhaps competitive to hold their attention
Think about the specifics of your game. Will it be based on knowledge and skill (e.g. trivial pursuit) or will it be about chance (e.g. snakes and ladders)
Decide now if your game will have a theme
Decide together on the rules of the game – how many people can play? What is the aim of the game and how does someone win? What equipment do you need for the game (e.g. markers, dice, pens, paper, board, question cards)
Sketch out your game. If you need ideas, there are plenty of templates available online
Find some material for your 'board'. You could use laminated paper, card, poster board or even felt. Let your creativity loose making the board as bright and engaging as possible. You could even re-use an old game or chess board but change the rules
Create place markers and any question/forfeit cards. You could use felt shapes, lego figures or existing pieces from another game for your place holder
Write out and print the instructions so that anyone can play even when you're not around
If you really want your game to work well, test it out, get feedback and then refine it.
You might also like...