Make Your Own Puppets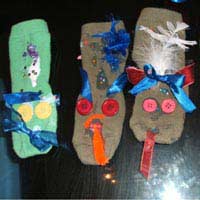 Most children love playing with toys such as puppets. The process of making them is a great way to keep kids entertained as well.
Finger Puppets
The simplest type of puppet to make is a finger puppet, which are best made out of felt but you can also use cardboard.
To make a cardboard finger puppet, first create a cardboard tube to fit around your finger and add a face. You can draw the face on, or stick on features using card cut outs or buttons and wool.
To make a simple felt puppet, cut two half-ovals out of felt that will fit over your finger. Sew or glue the right sides of the felt together but leave an opening at the bottom. Turn the puppet the right way out. You can then add features using wool for hair and felt for eyes. You can also draw the face on in marker.
If you use a glue gun, keep it away from children.
Sock Puppets
Sock puppets are cheap and easy to make; they're also a great way to use up odd socks!
Put the sock on your child's hand and ask them to make the mouth with their hand. Glue some pink felt inside the space to make a tongue.
Sew on or glue on buttons for the eyes and strands of wool for the hair.
Wooden Spoon Puppets
To make a wooden spoon puppet, just wrap some material around the spoon like a cloak. Draw a face on the spoon and glue on some hair.
Box Puppets
You can make a box puppet using an old cereal box and a ruler or a lolly stick. Cover the box in coloured paper and give it a face and hair using craft materials. Then, on the back of the box, glue or tape a ruler to enable you to control the puppet.
Make a Puppet Stage
Once you and your children have made a few puppets, you could think about making a stage so that they can put on their very own puppet shows. At the simplest level you could drape material over a table and let the children control the puppets from underneath the table.
You could also make a puppet show using a large cardboard box – many supermarkets will be happy to give them away. Cut the back out of the box using a knife (a task for adults not the children!). Cut the shortest two flaps off the top of the box, then turn the box on its side. The remaining flaps will stabilise the theatre when they're open and they can be decorated as curtains for when they're closed. You can also paint the inside of the flaps as scenery.
Tips
Make sure that children are supervised with the puppets and don't use any tools or materials which are unsuitable for their age.
Don't be too ambitious at first – even simple puppets are fun. You can try more complicated puppets once you've mastered the basics.
Use the puppet shows to encourage your children's creativity in making up stories and acting them out through the puppets.
You might also like...